21 desember 2021
Reading time 4 minutes
The trick to tracking and communicating with street trucks - Kalmar SmartTrucks App
Keeping track of all the road trucks moving into, out of and around a busy terminal is a tricky business. Kalmar's RFID based SmartTrucks solution is the gold standard deployed on tens of thousands of trucks and required at most US Ports – And now we've extended its capabilities with a user-friendly Kalmar SmartTrucks mobile app that benefits terminal operators and truck drivers alike to provide two way communication.
At a busy container terminal the number of road trucks arriving and leaving through the gates every day can number in the hundreds, so keeping track of all these movements can be tricky. Staying in contact with truck drivers during their time at the terminal and directing them to the right location for a pickup or dropoff can also be a challenge. What if you had an easy-to-use tool to solve both these issues?
Customers who already use Kalmar SmartMap, a real-time visualisation and operational tool that is part of our SmartPort suite of process automation solutions, can now take advantage of the Kalmar SmartTrucks app. The app enables two-way communication between truck drivers and terminal operations staff and helps improve crane operator productivity and reduce truck turnaround times.
"We're very excited to introduce this latest extension to our already popular SmartPort suite of solutions," says Angelica Nieto, Product Manager for SmartPort products at Kalmar. "Every truck driver is already carrying the ideal tool for communication and wayfinding in their pocket – their smartphone – so we wanted to use this tool to make life easier for them while also improving productivity and security for terminal operators," Angelica continues.
As easy as A, B, C
Before arriving at the terminal drivers simply download the app from their app store. On arrival at the terminal gate lane they open the app and scan the QR code to receive their unique site visit code, and then proceed as instructed. The app shows a map that displays the location of the truck and the pickup or dropoff location. Drivers can also communicate directly with terminal staff via the app if they need further instructions or want to ask questions.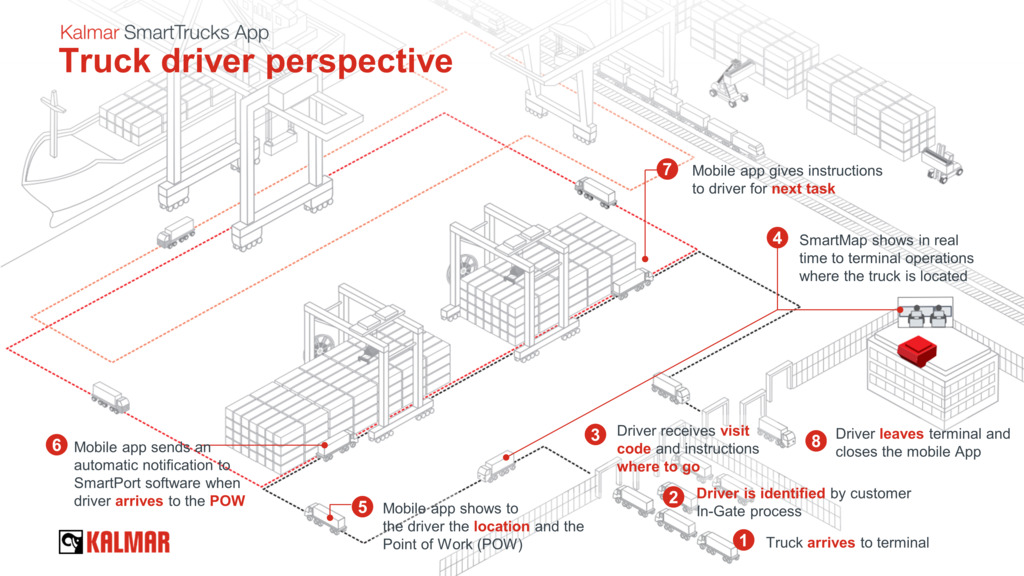 The app informs the terminal operating system that the truck has arrived, and once it reaches its destination, the job is automatically promoted in the lifting equipment operator's job list, speeding up turnaround times. The truck's position is sent to SmartMap so that operations staff can keep track of the truck as it moves around the terminal.
"As well as improving security at the terminal by enabling operations staff to track truck movements in real time, the combination of SmartMap and the SmartTrucks app provides a cost-effective way to enhance productivity using existing tools," Angelica highlights. "If the terminal is already using its own mobile app to handle external truck appointments, with our cloud API, they will be able to receive truck locations and, if needed, information about the jobs that the truck driver needs to complete during their visit ."
With real-time visibility and the ability to replay and analyse truck movements, terminal operators can also fine tune their terminal planning and traffic management procedures as well as use the data to investigate and resolve third-party claims from freight companies or cargo owners.
A typical SmartPort implementation with the Kalmar SmartTrucks App looks something like this:
SmartMap

for real-time and historical visualisation of equipment location and container routing in the yard

SmartScreen

for lift operator efficiency - job prioritisation is done based on truck arrival and CHE location.

SmartLift

for automating the job-selection process for lifting equipment like Reach Stackers, Top Loaders, RTGs and RMGs

SmartTruck

for automatically identifying road trucks and tracking their movement around the terminal

SmartStack

for creating an automatically updated real-time stack container inventory

SmartLane

for automatically registering containers as they move through gates when arriving at or leaving the terminal.
Interested in taking advantage of our latest trick for truck tracking?
Visit our campaign page, watch our SmartPort webinar, and read our insights article to find out how our SmartPort process automation solutions can boost efficiency at your terminal.