18 mai 2022
Reading time 2 minutes
7 important facts about the Kalmar Insight upgrade
Starting in March 2022, all Kalmar Insight users can enjoy a new and improved Kalmar Insight experience. Reporting, personalisation, sustainability and user-friendliness have been improved significantly with the launch of the new version.
But what exactly are the key features of this new upgrade? Let's take a look under the hood!
1. New Home Dashboard and Navigation
The new Home Dashboard offers an instant overview of the entire fleet and what might require attention at any given time. From refuelling concerns to the next servicing, the Home Dashboard makes sure you know the current situation at once with just a quick glance at your screen.
In addition, a new menu makes navigation smoother and more efficient.
2. Customise your Home Dashboard
Customers can easily customise their dashboard to suit their operational needs and personal preferences. For example, you can choose any type of equipment for the dashboard or filter equipment according to type; adjustments are immediately shown on the dashboard.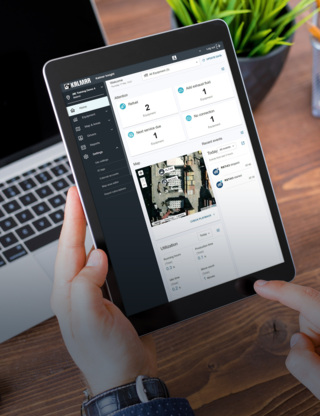 3. The next level for fleet utilisation
Thanks to the insightful utilisation dashboard, you will know exactly how the fleet is being utilised – and have all the information you need to make calculated decisions at your fingertips.
The utilisation dashboard can provide insights on, for example, equipment usage and idling, moves and lift types, fuel consumption and CO2 emissions. With just one or two clicks you're on your way to better fleet management and operations.
4. Save fuel, fight climate change!
With fuel prices soaring, prudent diesel consumption is vital – and climate change requires us to leave no stone unturned in our efforts to go low carbon. The utilisation dashboard allows for unprecedented eco-efficiency and cost-effectiveness, and optimising fleet performance reduces both the environmental impact and your costs.
It also allows you to report the emissions data directly from the utilisation dashboard to the proper authorities and meet regulatory requirements.
5. Tailor-made reports and notifications
Customers now have the possibility to put together their own reports and notifications, giving them a broader and better understanding of their operations. Thanks to the upgrade, you can easily compile your own Equipment Key Performance Indicators (KPI) reports, and edit them as needed!
Furthermore, you can get fresh Excel KPI reports emailed to you or to someone else in the organisation or set up email notifications to your business if, for example, a critical alarm is triggered.
6. Kalmar Insight covers all machines
Kalmar Insight software was designed for Kalmar equipment, but machines from other manufacturers can also be integrated into the system. This puts your entire fleet at your fingertips as you plan your course for the future!
7. Support available
Whether you're new to Insight or a seasoned user, you may still have some questions about the upgrade. We want to make sure that you can get the absolute maximum out of the system. Therefore, our technical support is standing by to assist you with any and all concerns you may have.